Do you have business problems that seem insurmountable?
Are you trying to get your whole team working and innovating together?
Our Design Thinking Workshop has your fix!

September 22, 2011

>

9AM-5PM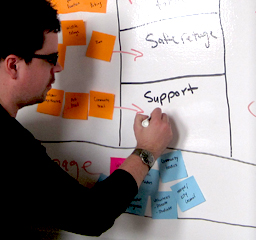 Our Design Thinking workshop benefits marketers, influencers, business leaders or absolutely anyone who wants to tackle big hairy problems, spur positive change and create more collaborative, innovative organizations.

We are conducting a series of complementary workshops, two times in September. We have room for only 15 participants per workshop in our space at the Lang Tannery building.

We encourage you to read the details below, watch the brief intro videos and sign up for the workshops that fit your schedule. Or email us if you have additional questions or want to find out more about price breaks available if more than one person attends from your organization.

What Is Design Thinking?
Design Thinking is about innovating intelligently. It encompasses a set of behaviours that are at the heart and soul of design and creativity. Not only does Design Thinking teaches us to enact solutions to problems—it shows us the benefit of immersing yourself in the world of the people your innovating for—instead of just sitting around talking about them.
Think about brands like Dyson®, Apple®, Target® and Swiffer™—each one is recognized for product innovations that solve a customer need in a new and unexpected way. Swiffer™, for example, observed customers closely and utilized static to revolutionize the way we clean, rather than simply making a better mop.
Don't be intimidated by the big names. The great thing about Design Thinking is that most of us are already intuitively doing it on a smaller scale without even realizing it. In fact, if you use experimentation, collaboration and integrative thinking to empathize with your customers, you're already applying Design Thinking skills to your business.

Design Thinking Workshop Details
What? This full-day workshop will educate you on the principles and stages of Design Thinking in a hands-on, collaborative and fun environment. Once you know the basics, we'll break you into groups, put the principles into action by tackling a design and business challenge. After the workshop, we encourage you to hang out, ask questions, discuss what you've learned and enjoy a glass of wine with us!
Schedule
AM: Design Thinking Overview, Setting up the Challenge for the Day, Needs and Opportunity Discovery
PM: Ideation, Prototyping, Applications for Your Business
Why?
What will our Design Thinking Workshop teach you.
To identify and tap into the basics of human-centered problem solving

To discover unmet needs and opportunities for your business

The vocabulary, structures and tools needed to be more effective innovators

How to reinvent your business for your customers

To put your new knowledge into practice to solve a real life challenge

As you can probably imagine, Design Thinking gives organizations the freedom to solve problems in multiple ways, instead of sticking to old, stagnant ways of doing things.
You'll take away the skills you need for.
Designing products and services that have real meaning and meet real needs

Building bridges to customers and crack wicked problems

Creating a vision that will reorient your organization around the people you serve

Managing risk and piloting new ideas with low cost prototyping, iteration and tests in the field

(much more effective than a business case)

Pin-pointing your best competitive advantage

Who should attend? Our Design Thinking Workshop benefits influencers and business leaders or absolutely anyone who wants to spur positive change and create more collaborative work environments within their organization. It is also relevant for:
Product Developers

Marketers

Product Managers

Engineers

User Interface designers

Our workshop applicable to B2B, B2C organizations of any size and for all industries

Where? Location: All workshops are held at the offices of Machteld Faas Xander, located at 121 Charles Street West, unit 230, Kitchener, ON.

How much? Only $850/per person.Materials, supplies and a delicious lunch will be provided for all attendees. The only thing you need to bring is enthusiasm and an open mind.
Date & Time: September 22, 2011

>

9AM-5PM
Contact Us
If you have questions about the workshop please contact:
Alison De Muy
Director of Client Partnerships
519-576-6422 x116
alison@machteldfaasxander.com
Testimonials
"I found tremendous value working together with the team at Machteld Faas Xander (MFX). Our organization is dedicated to bringing innovations to the market. Working together with MFX we were able to grasp a better understanding of the formal and informal processes that exist in our organization, which allow innovations to occur. We also identified key roadblocks to innovation and mapped out a feasible plan to enable employees at all levels to participate in our innovation process. Now innovation will be able to occur more quickly and efficiently. Overall, we were very pleased with the high energy, approach and professionalism working together with Machteld Faas Xander."
– Brian Denys, Canadian Business Director—BASF Canada

"We have been planning the launch of THE JAZZ ROOM for many months. With all the details associated with starting a volunteer-run new venue, it was easy to get lost in the minutiae of "things to do". Meeting with MFX was a great chance for us to lift our heads out to see the big picture and to remember why we are doing this in the first place. We got some excellent tips for focusing on what really matters and it was a great way to challenge our existing assumptions about our audience and our key stakeholders. The MFX team was supportive while also pushing us to explore some new ways of thinking. Thank you for sharing your wonderful resources at a very critical time in our evolution."
– Stephen Preece, School of Business & Economics—Wilfrid Laurier University