From August 9 to 11, a team of Waterloo Region innovation leaders attended Siggraph 2011, the International Conference on Computer Graphics and Interactive Techniques in Vancouver.
This year, the conference boasted 16,000 attendees from 74 countries, which broke Vancouver's conference attendance records. Over 150 industry organizations exhibited and more than 800 speakers participated including Canada's Technology Triangle and Waterloo Region, who partnered to create a booth to raise awareness of employment and business opportunities—including over 800 technology companies, complimented by the art, culture and diversity that make Waterloo Region the ideal location to start new careers, new business ventures or expansions.
Engaged in the project was Machteld Faas Xander President, John Short, who acted as facilitator. John emphasized the need for one, outward-facing 'Regional voice' for the booth and helped trouble-shoot any issues that would have compromised the tradeshow experience for conference attendees.
The final booth captured the spirit of Waterloo Region's diversity, thriving tourism sector and creative industry in arts and technology, as well as showcased our acclaimed educational institutions and entrepreneurial spirit through countless examples of successful start-ups. Undoubtedly, booth visitors were left with a lasting impression of Waterloo Region as one of the best places to live and work in the world.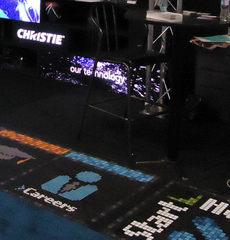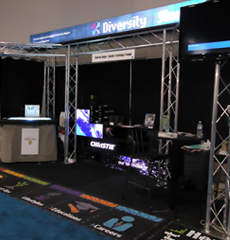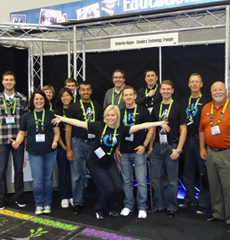 "The show was an outstanding success thanks to the many efforts that really stood out for me … Rod Regier [Executive Director Economic Development] from the City of Kitchener was a rallying point, bringing people together with his boundless enthusiastic, and Timm Vera [Manager, Strategic Marketing and Creative Services, City of Kitchener] kept people focused on creating a booth that solidified the region versus the tendency for each contributor to tell their own independent story. The Conestoga College crew was integral in the booth's creativity [they also supplied the booth superstructure] and Charles Fraresso of Christie Digital, supplied the booth's eye-catching digital tiles. Thanks also goes to Karen Gallant of Communitech and Andrea Sweet from Canada's Technology Triangle for stepping up to chase down visuals and necessary copy, and Neil Randle from University of Waterloo Gaming Institute who master-minded the booth's unique and interactive game concept."
The collaborative effort at Siggraph 2011 is one great example of how a fantastic regional experience can be communicated.
To learn more about Waterloo Region's presence at Siggraph 2011, read the press release from Canada's Technology Triangle and see photos of the booth and conference on Flickr.