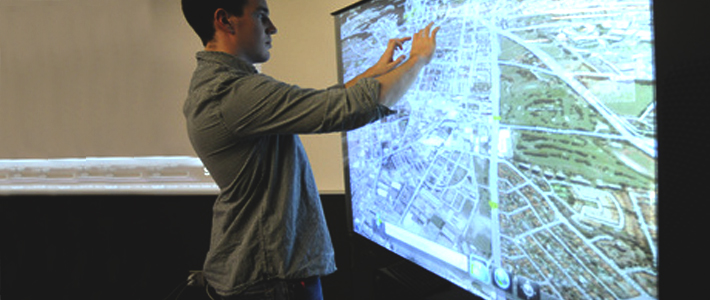 Young entrepreneurs anticipate the future by combining Design Thinking with technological innovation at the
new 'Felt Lab' in St. Jacobs.
This just-opened, state-of-the-art, digital media project is the inspiration of the University of Waterloo's Research Entrepreneurship Acceleration Program (REAP) and jointly-partnered by U of W, Quarry Integrated Communications (where the Lab is located), Christie Digital and Intel Corporation.
At the Felt Lab, students, faculty and industry experts freely explore new interactive technologies in an environment that fosters experimentation, prototyping and refinement of innovative ideas.
Rebecca and I were pleased to be invited to the grand opening of the Lab on October 26, and appreciated hearing more about the project from Alan Quarry. He explained that his company will also provide business and marketing mentorship for students who are interested in bringing their digital media innovations to market.
Commitments like these that made the Felt Lab possible are why the Region of Waterloo is such a magnet for talented entrepreneurs.
INTERESTING FACT!  Parts of the Quarry building complex in St. Jacobs once housed a felt factory that dates back to
the 1800s.