Machteld Faas Xander client, IST (Innovative Steam Technologies an Aecon Company) was in need of a custom tradeshow booth that they planned to unveil at PowerGen Europe, an electricity and power technology sector event held this past June at Fiera Milano City Convention Complex, in Milan, Italy (this event alternates between Milan, Italy, Cologne and Germany annually).
MFX worked closely with business partner and tradeshow logistics and custom exhibit design company, Moose Exhibits to create concepts for a clean, modern tradeshow booth using IST's trademark orange, white and blue colour scheme that would welcome customers to explore IST's product capabilities.
Collaboratively, MFX and Moose created a beautifully airy, bright and friendly atmosphere for IST representatives to flow through and engage potential customers. The final design featured four major sections: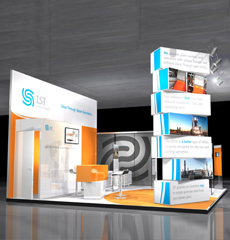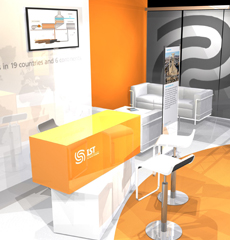 Section 1: A comfy 'sit down and chat' area with a social, barista feel where IST reps could engage attendees in casual one-on-one discussion or take a seat on the modern couches for personal presentations on the iPad slide decks.
Section 2: The booth's core, consisting of a casual information area centered around a counter of marketing materials. The core area also featured an 40×45-inch touch screen, where IST reps could call up informational and visual references, technology details, cost saving-charts, etc. as needed.
Section 3: Four freestanding plex stands, showcasing specific products from the IST line on one side and supportive customer testimonials on the opposite side.
Section 4: The groundbreaking aspect, a box tower akin to a freestanding column of stacked building blocks, featuring bright IST installations on one side and relevant testimonial quotes and images directly opposite.
MFX and Moose purposefully created an open, continuous flow between the three dynamic booth areas so that the deeper into the booth they ventured; the deeper into the IST brand was experienced. And this way, conference attendees could see and experience all three elements from any angle as they approached the booth.
The result, was a booth that not only attracted new and potential customers on the show floor, but also provided a solid representation of the (IST brand and it's ethos of innovative technology and products that are helping drive the boiler industry forward.