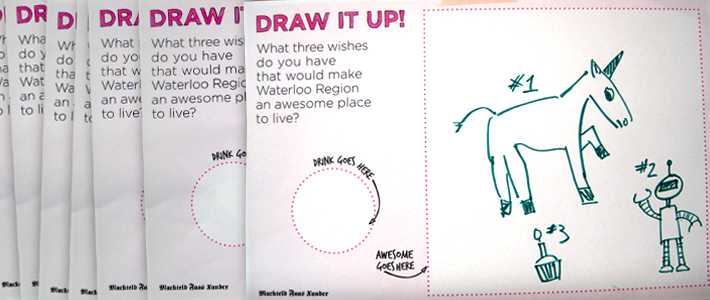 Green alligators, and long-necked geese. Some humpy-back camels and some chimpanzees. Some cats and rats and elephants, but sure as you're born. Don't you forget my …
If you're thinking unicorn, you not only took part in many a St. Paddy's day, you also nailed the re-emerging, yet delightfully surprising theme in our 'Draw it Up' train car, Machteld Faas Xander's interactive activity at Steel Rails 2011.
Yes, we had unicorns a plenty depicted by you, but in Marc's case, a unicorn represents his future hope for rapid transit in Waterloo Region. A system that would not only be magical to catch a ride on, but also provide a real personal transportation option that would take you anywhere you'd like to go. Kind of reminds me of Falcor in the NeverEnding Story. Man, I loved that movie. Still do!
Before I get away from myself with my own dreams of riding the skies on a luck dragon and eradicating bullying in one full sweep, I'll let Marc take it away. Not only was he nice enough to not only draw for us on the train, but he also took the time to give us a verbal interpretation of his art.
What do you think? And what the lucky stars could so many unicorns mean for the future of Waterloo Region?