On June 24, to do a little thought-provoking with our Digital Community Quilt—and the fabulous citizens of Waterloo Region were definitely game! You see, we were itching to expand on our Post-it wall from last year's installation when we asked, "What do we need to do to build a better community?"
This year, our thoughts remained focused on our ideal: people working together to co-design a better #KWawesome. However, we decided to add a little twist and make the activity in our train car more visually interactive, by asking participants to draw their answers to one of our three community-focused questions.
And as promised, we've already started—albeit slowly—revealing visual squares illustrated by our train car riders. You can't blame a girl for wanting to create a little anticipation, can you? Well today, I've decided to play nice and reveal three more quilt squares!
So without further adieu …
Question #1: What three wishes do you have that would make Waterloo Region an awesome place to live?
Our Interpretation: Creating a space for outdoor community theatre and arts, surrounded by the beauty of nature.
---

Question #2: What's your gift (what could you contribute) to the community?
Our Interpretation: Birth of a super-smart-phone lovechild between BlackBerry® and Apple®, which would pioneer a new age of information technology, knowledge sharing, and limitless community growth and success for Waterloo Region in the high-tech sector.
---

Question: What do you think is Waterloo Region's gift to its citizens?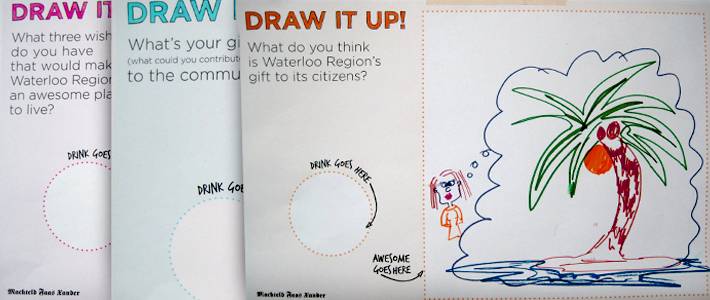 Our Interpretation: … and now for a really special treat brought to you via video of our very own Alison De Muy (and a few glasses of wine, which (and I'm just guessing here) figure into her "beautiful pelicans of Waterloo Region" theory 😉
---
So now it's your turn. We'd love to hear your input concerning the questions. Did we get the interpretations right? Do you have better ones? Come on, share, it's fun!