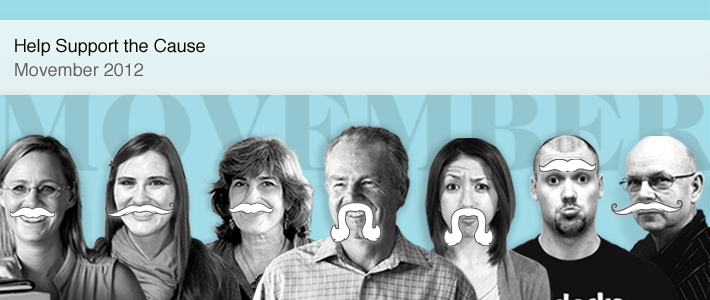 Machteld Faas Xander wants to see your MO! Tweet or e-mail us a picture of your mustache before the end of Movember.
We will show off our three favourites in a blog at the end of the month, along with the winners' teams so that you can donate and support the cause.
We also want to shout for the Mo Bros right here in our office. Way to go Mike, Neil, and Robert on the Movember midway mark.
We will be tweeting out some midway pictures of Neil, Robert and Mike, our Mo-friend from MadHatter, to show the progress that the guys have made in the past fifteen days.
Not involved in Movember? It's not too late! Join our team, Stitchy Moes, and start growing your MO.
For more information go to ca.movember.com. or tweet/e-mail us.
Twitter:@MachFaasXan
E-mail: Jessica@MachteldFaasXander.com
Donate!
Step 1: Go to ca.movember.com/donate.
Step 2: Enter any of the following into the search field or click 'General Donation' to make your donation!
Neil Lippert
Robert Minou
Mike Sage
Skitchy Moes (our team)