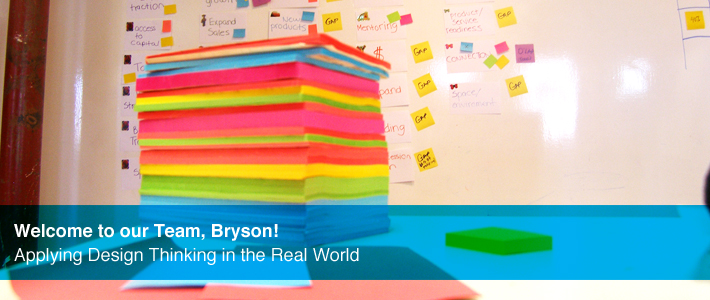 At MFX we are pleased to welcome a new member to our team. Bryson McLachlan is interning at Machteld Faas Xander this summer to facilitate Design Thinking projects with Rebecca.
Raised in the Yukon and currently being educated in Ontario, Bryson just finished his third year of Knowledge Integration at the University of Waterloo. Passionate about design thinking and collaboration, he has garnered practical experience through the Shad Valley summer enrichment program and the creation of a museum exhibit for the Knowledge Integration Exhibits project.
Bryson has been working with Rebecca on two different projects. The first project involved working with the City of Waterloo staff to help City Council identify its top priorities for Uptown Waterloo. Thirty-one distinct project areas were presented to the Mayor and Council in a facilitated session. Mayor and Council rated each one on a matrix of low-impact to high-impact and low-effort to high-effort. The top eight projects will be implemented in the City's plans for Uptown in the years to come.
The second project involves working with the Guelph Region and Waterloo Region to facilitate the completion of the Ontario Ministry of Research and Innovation's Self Assessment Workbook. The goal of the project is to better understand the current entrepreneurial ecosystem in Ontario, define challenges facing entrepreneurs, and map regional assets and develop ideas and actions to enhance regional collaboration. At this point, facilitation sessions have been held with representatives from both regions. The Ministry will receive and review the workbooks before the Provincial Workshop on June 12th and 13th, an event that MFX facilitators been invited to attend and help facilitate.  More sessions are planned in mid to late June to complete the Regional Self-Assessment Workbook.
Bryson is looking forward to seeing how the theory behind design thinking is put into practice in the real world. He is enthusiastic to apply the skills learned in KI to best facilitate his current projects.  We are all excited to have Bryson join our team and eager to work with him in the upcoming months.