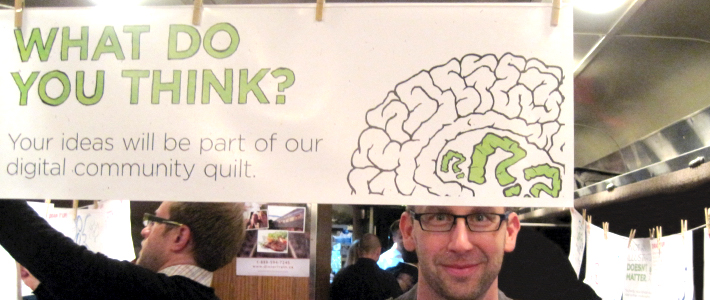 What do you get when you let this region's citizens explore a moving fusion of art, culture, community and science during on a two-hour train ride?
Pure inspiration for building a better community!
The Steel Rail Sessions part deux departed the station at 10 Father David Bauer Drive in Waterloo at 8PM on Friday evening and chugalugged it all the way to St. Jacobs. The event saw some 300 people enjoying the installations and activities that took up the length of the entire train as they mingled, enjoyed bevies and num-nums … and held snakes (you have to see it to believe it. Check out this video from QuantumPieBlog for a complete visual run down of the fabulous evening).
Machteld Faas Xander was once again asked to develop an activity by Steel Rails creator and organizer, Hilary Abel—and of course we jumped at the opportunity! We decided this would be the ideal opportunity to expand on the theme of last year's car where we asked, "What do we need to do to build a better community?"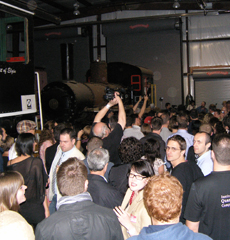 This year MFX asked participants to, once again, help co-design a better kwawsome by sharing a visual answer to one of these three thought-provoking questions:
1. What 3 wishes do you have that would make Waterloo Region an awesome place to live?
2. What do you think is Waterloo Region's gift to its citizens?
3. What's your gift (what could you contribute) to the community?
The visual squares illustrated by the train riders will eventually be used to create a Digital Community Quilt that we will post in all of its glory on this blog.
But first …
We plan to uncover the unique squares gradually, and hopefully rouse comments from those who didn't get a chance to ride the choo-choo train. Not only do we want to hear your feedback on our 3 questions about Waterloo Region; we'd also love to hear your interpretations of the visual quilt squares that were created so thoughtfully (and drunkenly) by our Steel Railers.
So how bout it? You show us yours and we'll show you ours (that's a fair trade). Share your answers to our 3 questions about Waterloo Region and we'll unveil more of the digital quilt squares.