Final closing up of the cabin and good-byes to friends…

Day 12:
… occupied most of the day. It's an easy three hour ride to the ferry that sails from Argentina. I decided to take this boat rather than the one that sails from Port au Basques—that one is an eight hour ride away. Argentia boat leaves at midnight so I left Keels at 5:00pm to give myself plenty of time to get there (need to check in two hours prior to departure). Along the way I took a detour to see friend Catherine's latest real estate purchase in Tickle Cove. It is a wonderful, original, century + old home. No hydro or plumbing but a glorious view.
Twenty three motorcycles were lined up for the boat and, as is typical, there was a lot of chatter back and forth between bikers. Each biker is responsible for tying down their rides although Maritime Atlantic supplies the straps, etc. I always take my own—just in case.
Day 13:
This is a 14 hour trip so there was lots of time for sleeping and interesting conversations. First order of business was a nap and I decided to give the reclining chairs one more try. No good—after one hour sleep in three, I wandered into the lounge and did what's frowned upon but often done, curled up on one of the sofas. Now that's better. Awake at 8:00 am.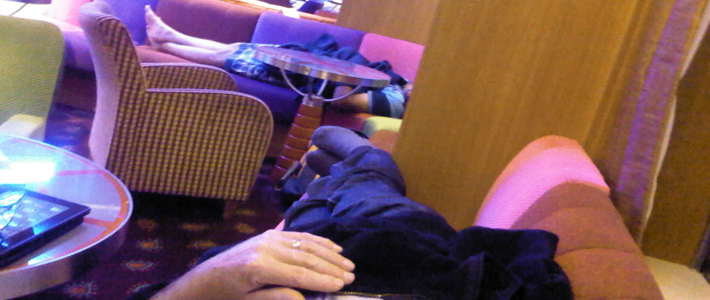 Met one of the bikers in the coffee shop and we sat down over breakfast to swap stories. I couldn't beat his tale; Tony has been on the road for over a year and, beginning in San Diego, has racked up 40,000 MILES on his Yahama FJR. He's been all over the US, most of our Provinces and is on his way to Maine to pick blueberries and save some cash so he can continue his adventure to …Argentina!!! He asked me if I knew anything about the Cabot Trail and I got all effusive and told him not to miss it IF the weather holds (I rode it clockwise on the way out last summer). He wanted directions and I decided, there and then to do it again, "You can follow me!" I said. Boat is slowed by fog, so we didn't get into North Sydney till 3:00 pm.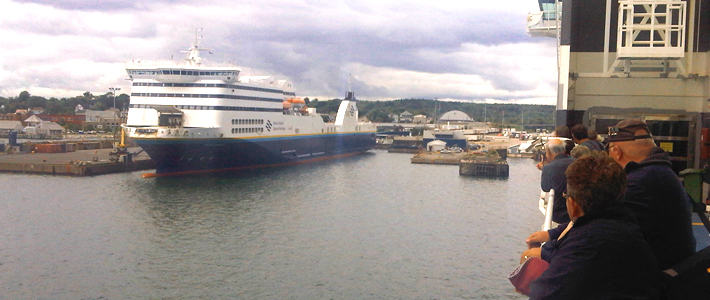 Forty odd kms from Sydney is English Harbour. Weather was cloudy but still holding so we took the short 5 minute ferry across the channel to the Trail entrance and began a counter clockwise tour. Ride got off to a beautiful start—love the scenery.
Scenery is lovely but I was also there for the curves. I didn't want to take it too hot because it was all new to Tony, but some of the bends are irresistible and I did a bit of serious carving; then the mist began to roll through and we slowed down. Just as well- my bike suddenly began to weave, I got stopped and investigated all the mechanicals to find a flat back tire. This could have been a real problem—KTM rims are notoriously difficult to get tires off of. We had stopped in the parking lot of the only building we had seen for a while—a quilt and gift shop. No service stations, so this was my only hope. There was a guy there, in the middle of bedding, tee shirts and nick-nacks. "Got some trouble there, have ya?". I explained my situation and he figured he might be able to help. Turned out he was a bike dealer in Sydney a while back and quickly became my hero. Got the tire fixed and on our way but lost a precious 1.5 hours and we were still in the middle of nowhere. And then more serious mist—fog even.
It eventually cleared and we upped the pace again. Then it happened. A sharp, decreasing radius bend caught me going a bit fast- not desperately so but still a tad serious for the conditions. While I was fine, I was hoping that Tony wouldn't be caught with too much speed …I saw it all in my rear view mirror; coming around… could be ok… almost out… dangerously close to the road's shoulder and then…Tony did a low-side! Thankfully, he was ok. The bike too was ok mechanically although the windshield and mirrors were torn off and the fairing was seriously shredded and broken. Thank goodness for duct tape- we got the bike back in order as best we could, Tony did a quick test ride and gave me a thumb's up- good to go. Now, however, we were seriously late. By the time we approached the end of the Trail, it was dark and we were in the middle of moose country. Slowed right down, we finally reached the small town of Baddeck at 10:30 pm. Pizza restaurant was still open, yea! Motel near-by. After 7.5 hours on the road, I was just 60 kms closer to home. Tomorrow's another day.
Day 14:
On the road by 9:00 am and determined to do some serious distance. No diversions, Tony rode with me to Moncton then peeled off towards St John NB, Maine and his berry-picking gig. Best of luck Tony.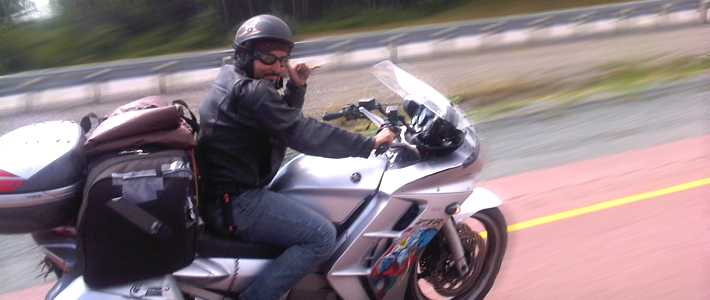 Rest of the day was 300 km, fuel and repeat and very little of anything else. Towards evening, I stopped for fuel at the New Brunswick/Quebec boarder where a fellow biker came over to admire the bug collection on the front of the KTM. After exchanging lies and half truths, he asked "Where you heading and how long you planning to stay on the road tonight?" I answered, "11:00 pm or till I hit a deer." So, Pete became my new biker buddy. He drives a Harley and was on his way to Ottawa.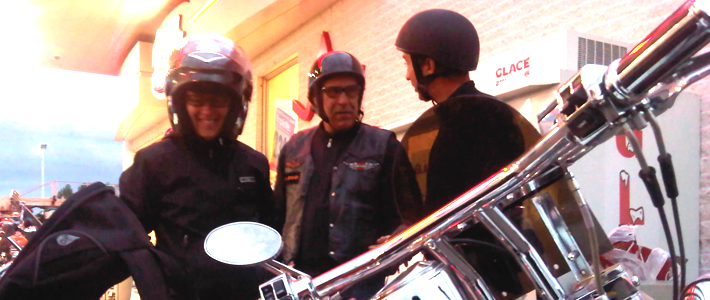 We got as far as Levis PQ, riding particularly carefully/slowly (deer signs), before stopping for the night. I had ridden 1,151 kms today so was pretty pleased with my progress this day.
Day 15:
A fast food breakfast, and it was back to the four-lane by 9:00 am. Riding style changed dramatically today. Pete is an excellent rider (he's an ex fighter pilot and it shows) and his skill/concentration gave me the confidence to close up and MOTOR! I suppose there are cons to riding in even a loose formation but when you can trust the style of another rider enough to ride together, you get noticed by motorists and they give you space. We were really moving. The only trouble with Pete is that he can't avoid getting into conversations. Everywhere! Stopping for fuel and he shared life stories with complete strangers. All the miles and time we saved on the road was lost, and more. Oh well, I should be the last one to complain about people telling stories.
On one particular occasion, pulling off the highway, we saw a group of people standing around a van. Of course, we had to investigate. Turned out it was two families- five kids, two mothers—stranded with a vehicle that suddenly started shaking as they were driving down the highway. We discovered that a tire was beginning to separate from its tread. Getting the spare was a job—rusted in place. But it all worked out and we felt very heroic.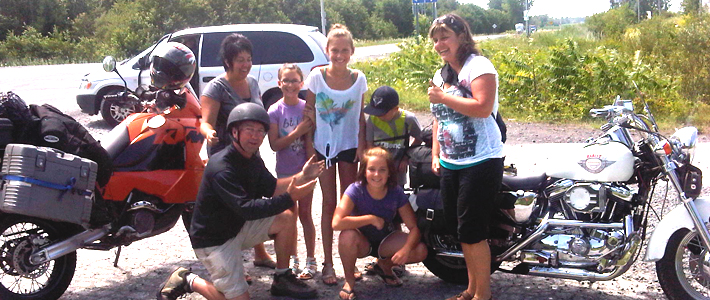 Anticipated Montreal traffic congestion didn't materialize- we stayed on the south side of the river on Hwy 30 west and beyond to Valleyfield before crossing to meet Hwy 20 into the 401 west. Pete left at Cornwall. I was home at 10:30 pm, lovely welcome (Rebecca missed me), cup of tea and a good night's rest. And that's the end of the adventure. Total miles ridden—2,738 km using 159 litres of fuel.