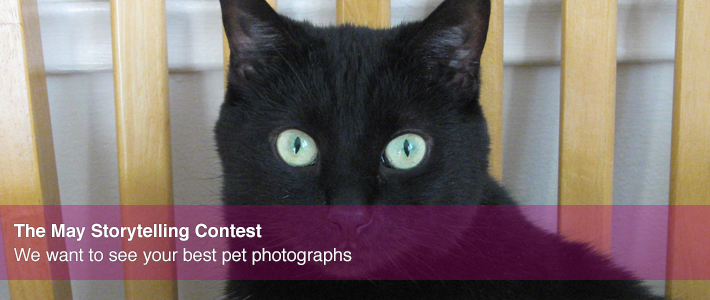 Lately, there has been more than the usual amount of cat talk around the office. The culprit behind this welcome change is no other than N2 the Talking Cat. N2 is an Internet star who embarks on adventures, creates music and even brings attention to social issues through episodes of his YouTube channel, created by our friend, Clayton.
Clayton is the latest trainee in our Social Media Fun-Damentals in Business program. He, however, is no newcomer to the world of social media. N2's YouTube channel has 12 000 subscribers and his Facebook fan page can boast over 31 200 likes. One of N2's videos even has over 1 800 000 views.
All this talk of furry friends gave us an idea for the May Storytelling Contest. We had such a great response with March's winter photograph submissions that we wanted to hold another storytelling contest that featured photographs and visual stories. During the Month of May, we want you to send us a photograph of your pet. Is your animal friend beautiful, loving, smart, hilarious, quirky or adorable? Send us a photograph that best shows their personality and you could win $100. Any and all pet pictures are welcome.
Tweet (@MachFaasXan) or e-mail (Jessica@machteldfaasxander.com) the photographs before May 31, 2013, to be entered into the contest. Our favourite will receive a prize of $100.00. The winner will be announced on June 5, 2013.
We will post your pictures on Pinterest and Facebook. Images that are submitted through Twitter will be retweeted and images submitted through e-mail will be tweeted. If you include your full name with your submission, we will credit you as the photographer. With your photograph, we encourage you to include description or the story behind your photograph but it is not required.
Rules:
• You must have taken the photograph yourself.
• Photographs must feature a household pet.
• Photographs must be appropriate for all ages.
• You may submit more than one image.
• Winner must respond within 48 hours after we contact you.
• Winners will be contacted via the medium used for submission.
• Submitting photographs shows that you agree with these rules and that you have given us permission to post the photographs on our social accounts.
If you haven't already, check out N2's videos or connect with him on Facebook and Twitter.