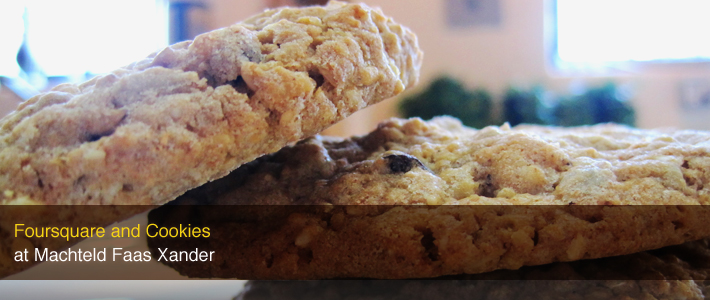 At Machteld Faas Xander we are proud of our home. We love Waterloo Region, we love The Tannery and we REALLY love our space.
Our space is great, and many people actually associate us with our office. We have taken great care to ensure that it reflects us as a company and that it provides us the best atmosphere for collisions, collaboration, and creation.
We want to celebrate our home and invite you to join us, using one of the greatest ways to celebrate that we can think of: cookies.
The next time that you come to visit us or use our space, check in on foursquare. When you check in at our location three times, you will receive a delicious cookie as a gift for visiting our home. We will be featuring cookies from local shops and bakeries around the region. If you have a suggestion for a featured cookie, tweet us @MachFaasXan
We look forward to seeing you!
The MFX Team
For those of you who are unfamiliar with foursquare, it's a mobile app you can download to your phone. You create a personal account, similar to other social networking accounts. When you go to a place or spot, you check in through the app and it shows that you were at that place. You can also leave tips and share what you were doing at that venue. It's great for getting new recommendations on a current fave spot, or getting new recommendations on anything from sushi to soccer balls. Try it out… you'll love it!
Want to sign up for an account? Download the app on your mobile phone or go to this link.
Want to know more about foursquare? Here you go.