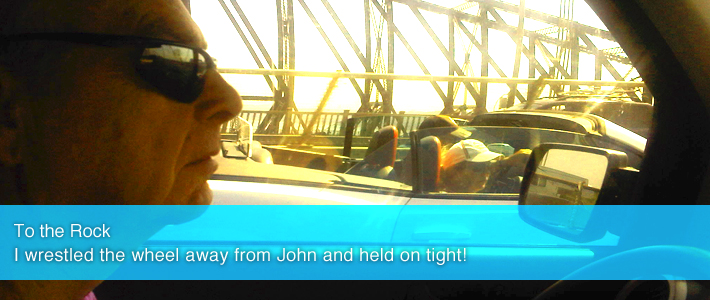 Day 1:
John Hofstetter's (John H.)  Honda Element is loaded to the gunnels as we set off at 10:00 am, beginning on the 401 and staying in Canada the whole way. I'm not driving the first shift, so I am uncomfortable (typical me). At the first fuel stop, I wrestled the wheel away from John H. and held on tight for the majority of the trip. No drama today. Stopped for the night in Three Rivers, PQ.

Day 2:
Another day of four lane motoring, East on 40, crossing from the North to the South shore of the St. Lawrence River at Quebec, PQ. Then, onto 20 East and our first diversion- a stop at Riviere de Loup for brunch. This is one of our traditions on our way out East- a sandwich at Au Pain Gamin. Also, there's an outdoor store just up the street that always gets a look. I found a much needed bathing suit (although I got more than I was expecting- more on that later). It's the Trans Canada highway now, and another stop at Heartland, NB for a chance to play picture-taking tourist's. This is the home of the world's longest covered bridge. A local approached and asked if I had seen the bridge on Google (which I hadn't). He went on to say that the town's website normally gets 75 hits per day but on July 4th, after it was pictured on the Google site, hits reached over 150,000!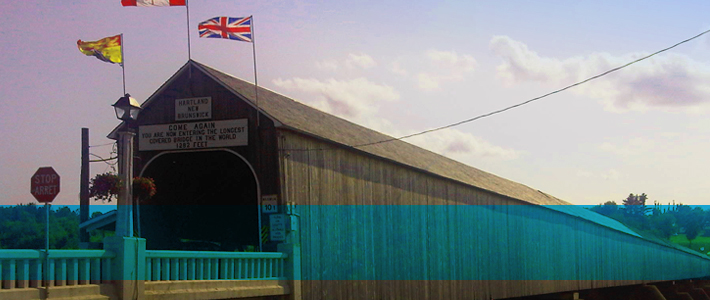 Second evening spent in Fredricton, NB, where we had a great walk to a huge dam across the St. John River. The structure has created a massive long, deep lake that boaters love. The river below the dam is also a favourite for boaters.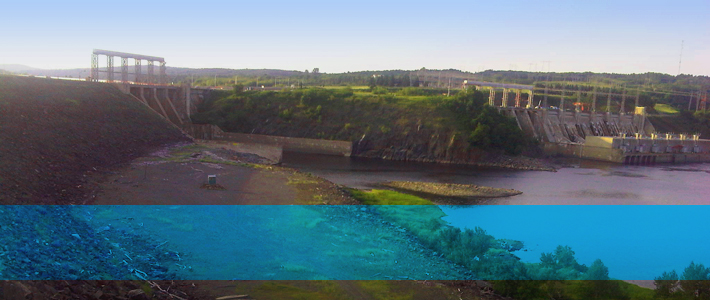 Met two bikers back at the motel who were on their way to Gros Morne park in Newfoundland. They were driving modern Triumphs (a Sprint and a Bonneville).

Day 3:
John H. didn't seem concerned, but it certainly looked to me like we were running out of fuel getting towards Moncton, NB. Speed down for economy. Sighed in relief as an Irving sign appeared- we ghosted in on fumes. The Bridge Street Café in Sackville is another tradition- coffees and lunch today.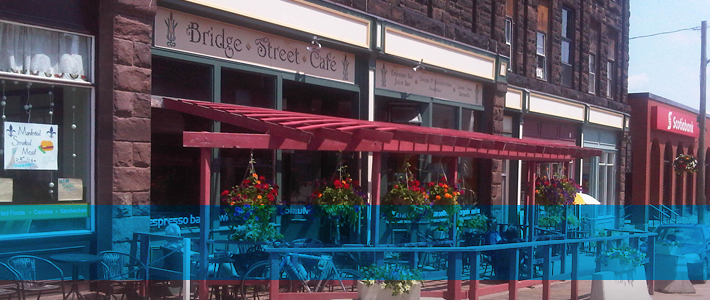 There is an independent book shop across the street where I spotted and bought a book. Route 66 Still Kicks' about today's challenges in trying to navigate ruminants of this famous US highway (read during the holiday and it was just OK). It is troubling to have since learned that it was written by a Canadian, published by a Canadian publisher and was at least partially funded by Canadian Government money! What about the QEW- celebrating 75 years, or the Trans Canada highway- celebrating 50 years?). We can never go through Auld's Cove (just before the Cape Breton causeway), without a stop at John Pettipas to buy fireworks (John H. lights them for the enjoyment of the villagers in Keels every year). Pettipas was in a particularly loud and boisterous mood this visit- even lit a rocket to wish us well on our journey!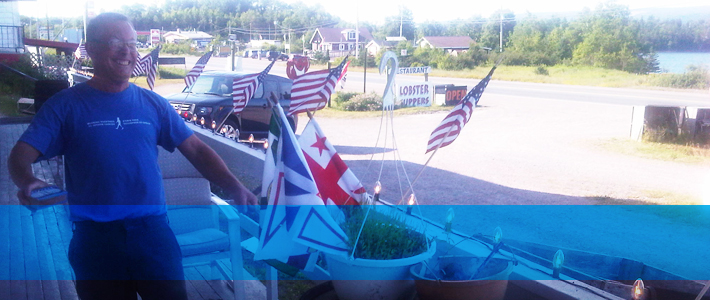 After that, it is across the causeway, beautiful Cape Breton and the overnight ferry to Port au Basques. No cabin, but we booked leather reclining sleeping chairs so we should be comfortable for the 6 hour crossing.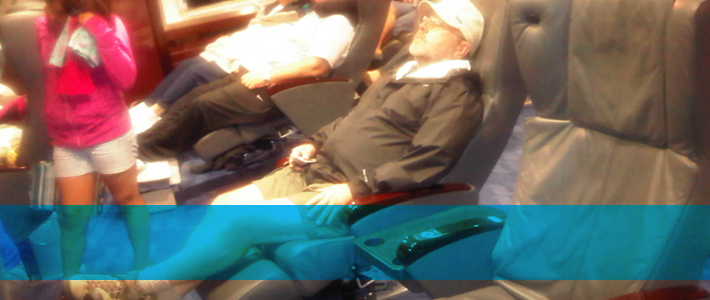 Day 4:
Wrong! Those reclining chairs are dreadful- don't ever do the overnight and expect to sleep in these torture-racks. Crossing was very smooth on the other hand. We got our first clouds and rain of the trip, as we drove inland on The Rock.
Came into Keels around 7:00 pm. Big welcome By Selby at the Mesh General Store.
Stay tuned for installment 2—The Rock—coming soon.