Time and dates are mostly meaningless once I'm installed in the family getaway shack here in Keels (population of 60). I go to sleep when it gets dark, wake up when the sun rises…and repeat.

Actually, our place is in the suburbs, around a tiny bay, on a point of land called Turkey Shore (population 1-5  seasonally). It's called Turkey Shore because, in the 1700's it is rumoured that French pirates (called Turks) spent time here. It is also said that they buried treasure close by. I haven't found it yet.
Days 5 to 12:
One thing I was anxious about after getting settled was to prepare and start the bike, it appeared ready to ride back home. In spite of a dwindling population in Keels, there is usually a small, impromptu gathering each evening at the only commercial establishment in the village – the general store, owned and operated by Selby Mesh. One night in particular stands out when a senior resident, born and raised here, was getting historical.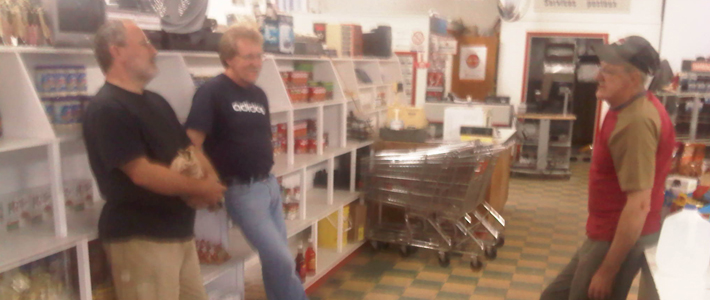 Apparently, the settlement was shown on navigational maps dated back to 1562. A census in the mid 1600's registered 70 resident's. Keel's Anglican cemetery has a grave-stone dated in the early 1700's (I went looking for it the next day, but couldn't find it). In total, there are over 150 buried there.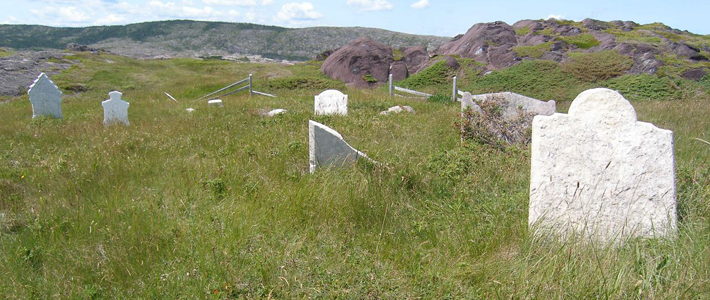 Art activities on our side of the peninsula are growing. Our friend Catherine has opened up a small exhibition space and studio in Duntara, just 2 km over from Keels. She had her first opening just after I left for home, but I got to see preparations and several installations as she and others prepared for 'The Two Rooms Contemporary Art Projects'. John H. installed a work. Well done and received—congratulations to all!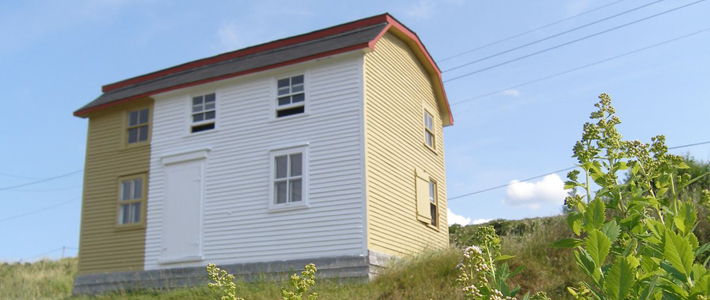 We have more and more excuses not to cook here on the peninsula- another new, great destination a few coves towards Bonavista, is the Bonavista Social Club. Wonderful pizzas and salads made with vegetables grown in the garden next door. Further up the road is Suzy's- mini-diner type fare. Then there's Neil's Yard in Bonavista for great desserts and designer coffees (John H. currently has an art installation there too). Across the peninsula,(near Trinity) is Two Whales for coffee and sandwiches or Fisher's Loft for fine, up-market evening dining. Spoiled for choice.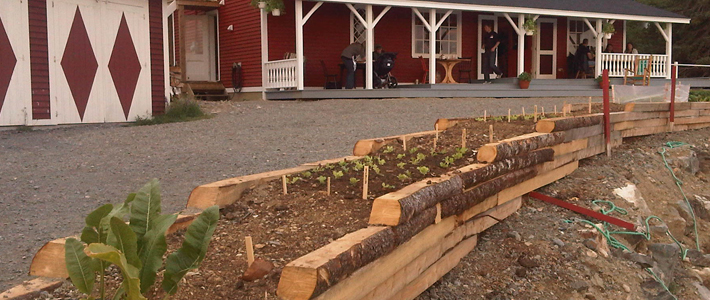 One of the features of Keels is the presence of Oconcretions'. Geologists explain them as weathered out limestone nodules but calling them Devil's Footprints' gets a lot more attention; tourists actually visit just to see them.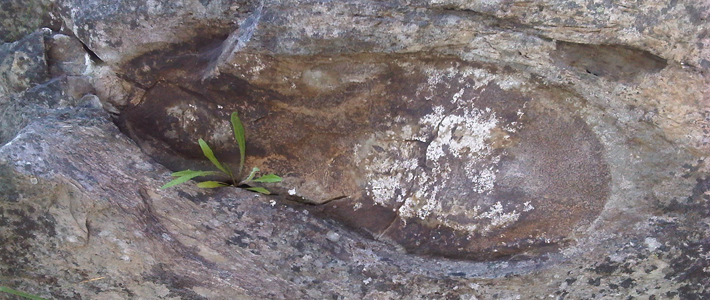 I took a significant walk almost every day. One day along the coast behind the abandoned slate mine in Keels, seconds after taking the picture here (looking towards Bonavista in the far distance), I had my only whale sighting. With no time to re-shoot, you'll just have to trust me on this. Apparently,there have been a lot of whale sightings this season. Other years, in a boat, off-shore, we have been within 20 meters of them.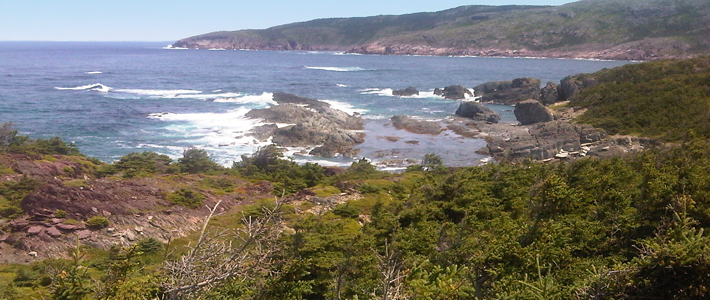 From time to time, it was important to reconnect with the real world that made this other-worldly trip possible. Office space here stretches the term; I can't get a phone signal at the cabin so I must climb to the top of a rock face behind our place and sit in a folding chair with my BlackBerry. Sometimes, I need to stand, or even raise my hand to send an email. There are compensating benefits however- see picture of the view from this spot.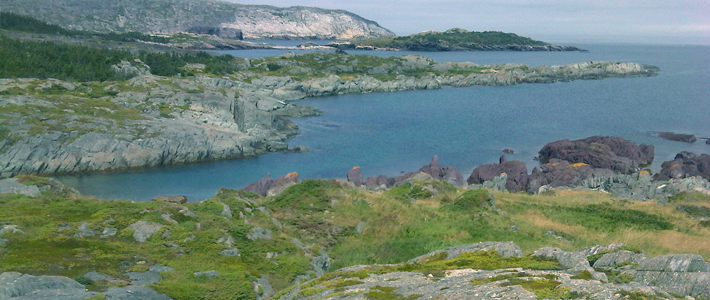 Castle Cove is three bays away, hiking over challenging terrain. It has one of the better harbours in the area and some argue it might have been where John Cabot actually landed in 1497. Local's say that Bonavista would have been a very unfriendly, unprotected place to land, whereas places like Castle Cove have protected anchorages. From 1850 to 1884, there was a small settlement of 50+ migratory fishermen in Castle Cove, but now there is barely a hint of any structures.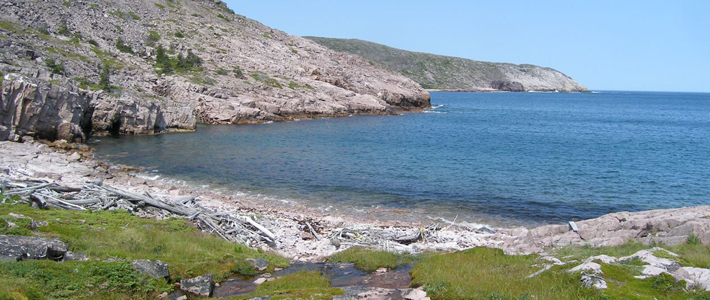 Our place doesn't have running water, so we really appreciate a small, fresh water lake that is just 2 kilometers behind our place for swimming and washing.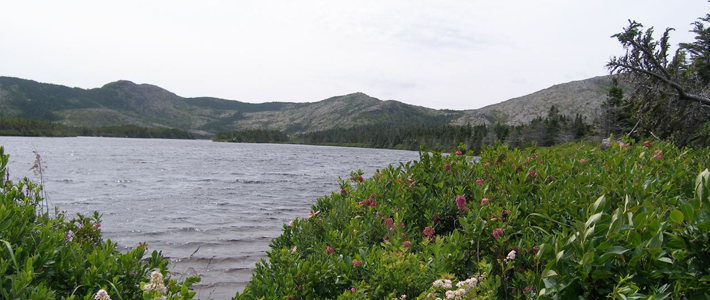 The new red, solid colour,  bathing suit I purchased on the trip out, revealed its hidden feature for the first time here…made of water-reactive (and apparently high tech) fabric, when wet, it creates an all over pattern with the manufacturer's logo- a surprising revelation that had me laughing out loud first time I came out of the lake from a swim.
On day 11, it was time to think seriously about the trip home. Booked the long 14 hour Argentia/Sydney ferry, sailing at midnight.

Day 12.
All packed and ready to go.


The last and third installment of my summer adventure—And Return—up soon.